MQM Quality Manufacturing - Your Partner Of Steel.
MQM Quality Manufacturing is a leader in Canada's steel structure fabrication and installation sector. MQM's competitive prices, high-quality products, adherence to deadlines and customer relations make it a sought-after steel manufacturer.
We are committed to providing quality products and services that will meet and exceed our customers' contractual specifications and industry codes. MQM's management pulls out all the stops to ensure that its work processes meet the strict occupational health and safety standards established by provincial and international organizations.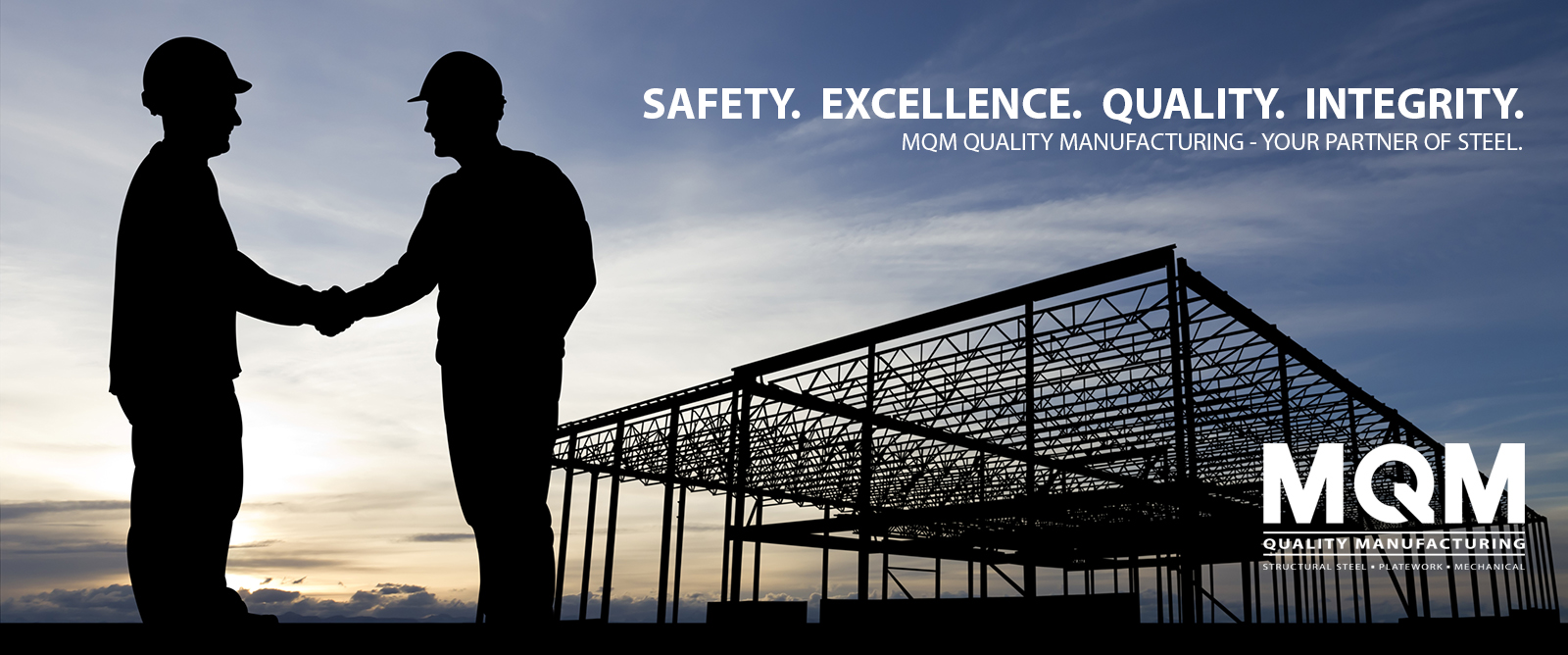 SAFETY  – EXCELLENCE IN SAFETY LEADS TO EXCELLENCE IN BUSINESS. In every level of our organization, MQM priority is to provide a healthy and safe workplace for our employees and everyone on site. Our proactive approach consist of on-going education, job specific safety plans, and safety inspections. We want everyone to return home safely !
EXCELLENCE – WE STRIVE TO DELIVER THE BEST INDUSTRY EXPERIENCE AND BECOME YOUR STEEL PARTNER. We continually work to improve, provide solution to problems, and deliver on time your project.
QUALITY – OUR PHILOSOPHY IS TO THINK TWICE AND EXECUTE ONCE. We understand the importance of quality in your project. Our Certifications and QA/QC programs meets industries highest standards.
INTEGRITY – THE CORE OF OUR STRUCTURE IS BASED ON INTEGRITY. Our reputation is built on accountability, honesty, and trust
When MQM Quality Manufacturing was established in 1993 to meet the steel-related needs of the construction industry, the company's senior officers were already renowned for their expertise in the metal fabrication sector.
In 1997, MQM turned to the US market for its continued growth and prosperity.
In 2001, MQM decided to expand its facilities in order to increase its production efficiency and therefore meet market demand more effectively. A 9,600-square-foot paintshop was set up for complex two- and three-layer applications.
MQM is one of the very few companies with such facilities in Eastern Canada.
Since then, MQM has continued to invest in its operations by expanding its main workshop and adding a second one for metal work machining. MQM has made significant investment in machinery for the handling and fabrication of large-sized components.
MQM is proud to be involved in major construction projects across North America.
Our Team
MQM Quality Manufacturing is proud of its more than 180 employees, 20 of whom work in management and sales support, allowing MQM to keep abreast of new trends in the industry and work innovatively. Our multidisciplinary team can meet MQM customers' high expectations. It consists of experienced engineers, project managers and site supervisors, who ensure that MQM meets strict occupational health and safety standards.